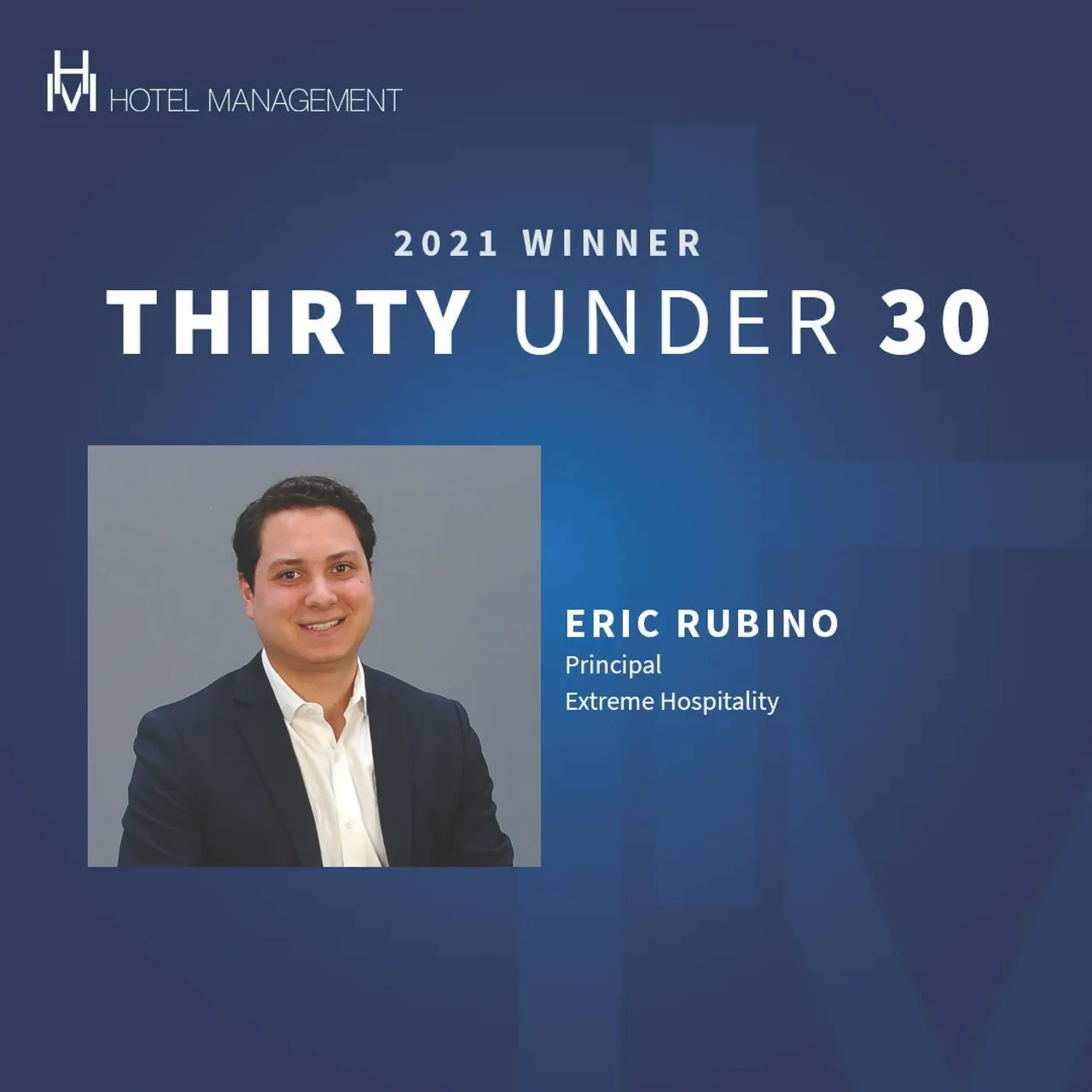 Eric A. Rubino named Thirty Under 30 by Hotel Management Magazine
New York, NY
Hotel Management Magazine has named Extreme Hospitality's Eric A. Rubino to their 2021 class of Top Thirty Under 30 in the hotel industry.
Eric holds a Bachelor of Science Degree in Hospitality Management from the world renown Pennsylvania State University's School of Hospitality Management. Eric also holds certifications in Hotel Real Estate Investments & Asset Management from Cornell University's School of Hotel Administration and Hotel Industry Analytics from the American Hotel & Lodging Educational Institute. Eric's professional career is focused in Hotel Real Estate Finance, Acquisition and Development, Hotel Asset Management, and Hotel Corporate Finance. To date in his career, Eric has worked on and underwrote over $1B worth of hotel real estate investments and transactions for some of the world's largest private equity firms, lending intuitions, REITs, and high net worth individuals.
While Eric's career is now focused in the real estate sector of the industry, he also has vast experience in hotel operations. Eric has worked in hotels' front office, food & beverage, housekeeping, maintenance, and administrative departments. Eric has also held the position of Task Force Manager, traveling to properties in need of temporary operational management and service training. Eric is passionately driven to go above and beyond for Extreme's clients in unlocking value across their hospitality investments through unique and innovative solutions to further assist them in reaching their investment goals.
About Extreme Hospitality
Extreme Hospitality is a full service third-party hotel asset management and consulting company. Extreme provides hospitality services nationwide to a diverse clientele comprised of institutional, financial, and high net-worth firms and individuals. Extreme prides itself on being able to assist its clients in all areas of a hospitality investment's life cycle from development/acquisition to financing, management and turnarounds, and ultimately the disposition of the asset. For more information on Extreme Hospitality, please reach out to us at (570) 343-1817 or visit extreme-hospitality.com.
Source: Hotel Management Magazine Top Thirty Under 30 in 2021